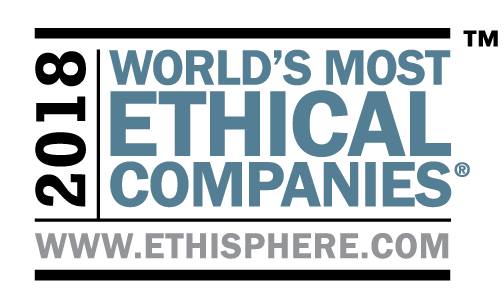 The Ethisphere Institute, a global leader in defining and advancing the standards of ethical business practices, today announced 135 companies spanning 23 countries and 57 industries as the 2018 World's Most Ethical Companies.
The World's Most Ethical Companies assessment is based upon the Ethisphere Institute's Ethics Quotient® (EQ) framework, which offers a quantitative way to assess a company's performance in an objective, consistent and standardized manner. The information collected provides a comprehensive sampling of definitive criteria of core competencies rather than all aspects of corporate governance, risk, sustainability, compliance and ethics.

Scores are generated in five key categories: ethics and compliance program (35 percent), corporate citizenship and responsibility (20 percent), culture of ethics (20 percent), governance (15 percent), and leadership, innovation and reputation (10 percent). All companies who participate in the assessment process receive their scores, providing them with valuable insights into how they stack up against leading organizations.

"Over the last 12 years, we have repeatedly seen that those companies who focus on transparency and authenticity are rewarded with the trust of their employees, their customers and their investors. While negative headlines might grab attention, the companies who support the rule of law and operate with decency and fair play around the globe will always succeed in the long term," explained Ethisphere CEO, Timothy Erblich. "Congratulations to all of the 2018 honorees."